Schools students in their last grade always fantasized about the college life that always college life One must enjoy college life, but with conditions. With reference to that, we are going to learn what are the Mistakes That Every Engineering Student Must Avoid.
Mistake Helps Us Grow..!!
Yes it is a famous saying but life is too short to learn by your mistake, you can also learn from other's mistakes.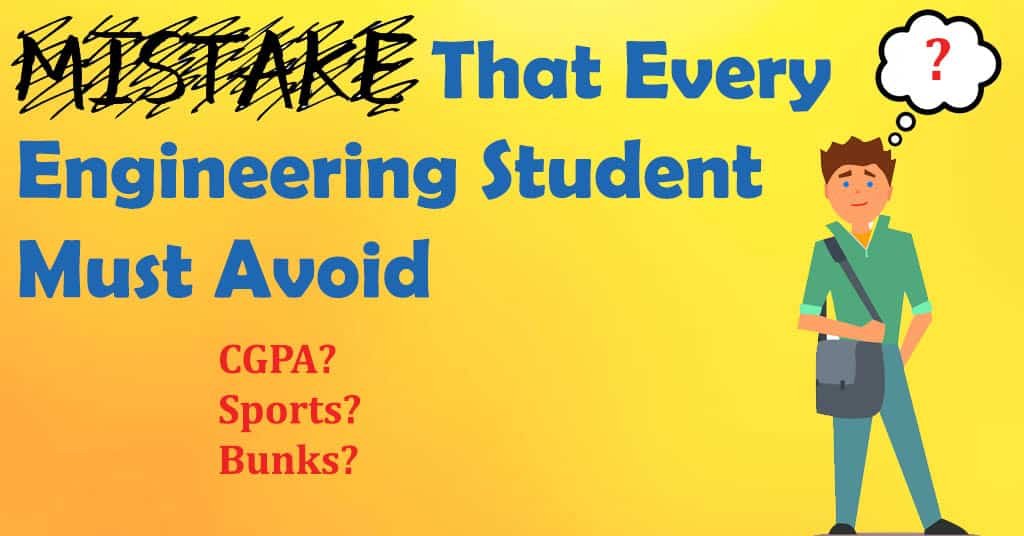 In case you are reading this for the first time, let me introduce myself, I am Ronak Prajapati, a chemical engineer having work experience with more than 4 years of and apart from that, I am a tech blogger. Today, in this post, I am going to share my thoughts and my experience on Mistakes That Every Engineering Student Must Avoid. Do give this a read and do share your thoughts on my learnings.
Mistakes That Every Engineering Student Must Avoid
Mistakes are good but only if they happen once and not be repetitive. Mistakes can help us to grow if we give analyze them and learn from them and starts focusing on how not to make that mistake again. Here are some of the learnings that I consider as mistakes and in my opinion, these are the Mistakes That Every Engineering Student Must Avoid.
Not attending classes regularly
For a student not only an engineering student, but a general student, it is vital to attend classes regularly. If you are under impression that we only attend class to take lectures from teachers or professor who reads the topic and you had already covered that topic so attending classes are on no user then you are not. Professors and teachers, the majority of them not only covers the topics but also share their experience. You can get all the details about the topics from books and from the internet, but the real-life and hands-on experience of those professors, you can't find it anywhere except the class.
You all know that engineering is all about practical execution and without getting at the workplace or industry, how the thing practically works you are not gonna have any idea. So it is important to attend classes regularly.
Now focusing on CGPA
On the internet and even some working professional says that marks don't matter, you deed tp have knowledge. Yes, I don't disagree with this statement but don't agree 100% with this either. In the initial stage when you are a fresher and are CGPA, SPI or CPI whatever you call it, these are the matrix that is really important when you sit in the interview. Not only in the interview, but in resume selection it plays a crucial role.
For a fresher, getting a resume shortlisted or selected is mostly based on two things.
CGPA
Projects and internships
None of the recruiters wants to hire a weak candidate. As a fresher, you don't have a field or industrial experience on which basis, you can stand out of crowd, It's the CGPA only, which can help you to get your resume shortlisted. In a personal interview, the recruiter will analyze you on different other matrix and in that, your CGPA might not play a leading role but to get your resume shortlisted, your marks are extremely important.
Lets us take the example of me, I was an average student and didn't take my first semester of chemical engineering seriously and because of that, I got a backlog in Maths-1 subject with only 6.57 SPI. After that, I studied hard and clear out that backlog and that was the last backlog in my whole bachelor's studies.
In our final semester, Deepak Phenolics, a well-renowned industry in the petrochemical sector came to hire us in campus placement. I was really excited and had worked hard to crack the interview as soon as we heard this news that this company is going to come for campus placement. But I got shattered when the company list out the eligible criteria. The candidate must not have any backlog in any semester, this was one of the criteria to become eligible for an interview and as I had one backlog in semester 1, I become ineligible. So although my CGPA was 8.2 till the 7th sem, I can't sit for an interview in that company.
That's why you should focus on your studies as because of my low score in semester 1, I got failed without appearing for an interview. You shouldn't misunderstand this point and take CGPA too seriously and stop other activities. A person should have overall development and this should not be the case where you only focus on CGPA.
Not making Networks
After graduation, you are a fresher, and believe me, getting your first job is gonna be pretty tough. If you got selected in campus placement then you had crossed your initial step of the searching first job, but if by any chance you didn't get placed by college or university, you will have to search job by your own and it will be a tough task.
As you are new to the industry, you don't have experience, it you have contacts of the persons working in the same domain, you have a benefit it they refer you. Believe me, now everything works on reference. Your networks will only help you to get references and these references can help you to get jot.
Your network is your net worth
Author Porter Gale teaches you the same in his book Your network is your net worth. So start building new connections and networks.
Not working on yourself
Start working on yourself, this sentence you had heard in my motivational or self-development videos or had read in several self-help books. You will only know the true value of when you stepped out of university and get enter into professional life. Being intelligent or securing the first position in the examination is not the only parameter to build a successful career, things like how confident you are, your communication skills, your nature, your behavior with your colleagues, how you portray yourself also matters.
Hence it is important to work on your personality and make your first impression really good so that you can set into the work culture of the organization you join and show your books the best work of yours.
Use wikipedia more than books
During your engineering students, you need to complete various projected assignments. Having internet access is a facility that can be helpful for a student to get information regarding the topic. The advantage becomes a disadvantage when the person forgot to limit to use the internet and apart from using books to refer topic, they started using Wikipedia and other websites to do copy paste and create a presentation.
There is no harm in using the internet to create projects and presentations, but relying just on Wikipedia to not using books is a problem. So use the internet as an additional means of studying and get the updated information but don't stop using books. Anyone can write on the internet and there is no check available whether the information available on the internet is authenticate or not. Hence don't stop using textbooks as information on books is authenticate.
Not working on communication skills
Having knowledge is of no use if you don't share it with others. Knowledge is useless if you don't share it with others. It's not important that you are smart and really know your domain very well. But you have to portray yourself and let others know that you know these things.
If you know something but you don't know how to present it then it's of no use. There is a famous saying that
Until or unless you don't show it won't sell
This means if you can't show what you know and how capable you are, nobody will value you.
So start working to build skills and communication skills is one of them that you should not ignore.
Not doing projects and internships
Nowadays, no one wants to teach work instead everyone wants an experienced person so that he or she can contribute to the organization. As all companies and organizations want experienced people, you can show your projects and internships. These can help you to portray your work and a resume with a list of internships and projects included are more likely to be shortlisted.
So apart from studies, you should actively participate in projects and always remain active in seeking opportunities for internships irrespective of whether you will be paid for that or not.
Summing Up
These are some of the Mistakes Engineering Students Make while there are in college and in universities. If you are a university student then do take these tips seriously and start working on it. These might seem worthless but believe me, you will understand this as valuable after you graduate.